Building a Successful Boudoir Business
Jen Rozenbaum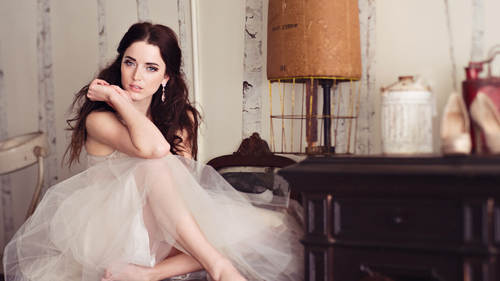 Building a Successful Boudoir Business
Jen Rozenbaum
Class Description
Photographer Jen Rozenbaum didn't let anything stand in her way when starting her boudoir photography business. She started shooting in her bedroom and built a profitable career from there. In this three-day boudoir tutorial, Jen teaches you how to put the "HOT" in photography! She will show you step-by-step how to build an amazing high-end experience for your clients — from the first contact to the final portfolio. Learn how to take your posing to the next level and make your clients look even more beautiful. If you are new to boudoir, or already have a thriving boudoir photography business, you don't want to miss this creativeLIVE course.
Class Materials
cL - Jen Rozenbaum - Challenges and Hurdles.pdf
cL - Jen Rozenbaum - Customizing Client Experience.pdf
cL - Jen Rozenbaum - Fearless Posing.pdf
cL - Jen Rozenbaum - Frightful to Fearless.pdf
cL - Jen Rozenbaum - Lingerie Styles.pdf
cL - Jen Rozenbaum - Marketing and Pricing.pdf
cL - Jen Rozenbaum - Posing Basics.pdf
cL - Jen Rozenbaum - Stylized Shoots.pdf
cL- Jen Rozenbaum - 8 Points of Posing.pdf
Ratings and Reviews
Wow what an amazing journey. A not to be missed intimate opportunity to explore this genre. Im sure even if you do other types and styles of photography there is so much to learn from this course. For me, starting out, it was more like an experience and I really felt part of the awesome class audience. Jen effortlessly offers heaps of wisdom and helpful advice. Her outlook and openess about her learning trajectory and the choices she's made constantly gives the viewer permission to learn, grow and embrace change. Her delivery is direct, truthful from the heart and yes, funny. Thank you so much Jen.
I don't know Jen or anyone in the class but I related so well with everyone involved in this workshop. I felt like I was in Oregon in the audience because I was so engaged.. haha Jen was so candid and detailed with every aspect. She never held back any information. If you would like to receive many helpful posing tips and so many great sales ideas and client communication advice then BUY THIS NOW! I debated between Jen and Christa but I totally connect with Jen as a person. She's so down to earth and has a fearless confidence that is contagious! It rubbed off on me so much that the day after I finished watching, I reached out to 4 bridal shops about partnership marketing and have a meeting on Monday with the lingerie shop that I really wanted to work with! I also started my ala carte price list the next day. If you've ever been to PPA and you know the feeling of leaving the confrence with a whole lot of pep in your step, if your anything like me, you will feel exactly the same after watching this 3 day workshop. I highly recommend!
Jen is just simply amazing at what she does and as a teacher. She keeps it real all the way. And despite what your husband says, I think you're funny! ;) So glad I purchased this course! Thank you.
Student Work