The Art of Filmmaking and Editing
Jeff Medford, Ross Hockrow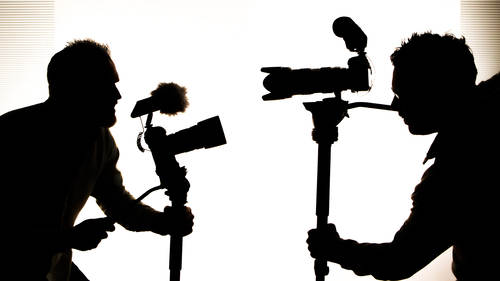 The Art of Filmmaking and Editing
Jeff Medford, Ross Hockrow
Class Description
Short on time? This class is available HERE as a Fast Class, exclusively for CreativeLive subscribers.
Have you ever thought about using your talents, training and equipment to design moving images to tell a story? This film workshop is your opportunity to learn how to become a visual storyteller with Jeff Medford and Ross Hockrow. Whether you're a photographer or an aspiring filmmaker, you will come out of this class with all of the skills to produce web commercials, wedding, birth, family and event films.
Discover what you'll need for your camera bag, lighting, how to shoot a conversation - all during a live shoot! You'll learn how to create a story throughout the editing process. This film workshop is full of non-stop information, all of which will allow you to expand your business and increase your profits.
Ratings and Reviews
Great 3-day workshop! I work for a college, teaching students to communicate via the video medium, as well as producing video for promo and events. This video is super useful to me... The most basic info was review, but it's great to see another team's approach to explaining and teaching the concepts. Some of the more advanced materials is on level or a reach for what I'm doing, so it's teaching me to move forward with my abilities. Just a note to the Creative Live folks, I love the idea of viewing for free and buy if you like to see again. I was able to catch a half hour here and there, which was enough to convince me to buy the whole thing. I wouldn't have been likely to plunk down $99 for a video when there really is so much out there for free. The difference, and reason it is worth it, is because this is so well organized and complete, and discusses a broad range of budgets as well as info for a range of skill levels. This live for free then pay to download model is great.
TERRIFIC workshop! Extremely helpful/educational ... and rather entertaining, too. (Bear in mind, I'm new to the cinematography end of things.) I'm pretty sure, no matter where you may be on the experience scale, you'll get enough ideas from this program to make it well worth your watching. I love the way they prioritize equipment needs & wants, and help us sift through the PILE of options out there. And their "$750 starter set-up" was definitely an eye-opener. (Um ... that's AFTER your camera and lenses, guys.) It's critical (and difficult) to maintain audience interest over a 3-day course ... otherwise, even the best material will go right over our heads. But Jeff and Ross were perfect together -- playing off, and feeding, each other continuously. Sometimes their banter is used for clarifying potentially confusing concepts ... and other times just for chuckles. All-in-all, I would recommend this to any but (perhaps) the REALLY advanced cinematographers out there. (Scorsese ... keep your wallet in your pocket.) For anyone considering purchasing the videos, consider this: Most of us who've already bought them ... did so AFTER watching a considerable amount of the workshop for free. That should tell you something of the quality of this material. Thanks, Jeff and Ross, and Creative Live!
I am thankful that I found CreativeLive and signed up for this class. For a couple of years I have been looking for a comprehensive course to teach me about filmmaking for the independent artist. I have sought the professional guidance of "people in the business" but they were more interested in taking your money than helping. And they were very condescending and arrogant. At CreativeLive I have found people who are like me and willing to share their knowledge with me. This particular course gave me the foundation to know what to purchase and where to start in my first efforts of filmmaking. This course, though very informative, I would wish if was a bit more technically than theoretical. Ross is great at what he does but I felt spent too much time on too many theoretical aspects of filmmaking and not enough fundamentals. Jeff was better at explaining the technical aspects of filmmaking but did not speak as much as Ross. Overall, I find that Jeff and Ross were wonderful teachers and I learned so much from them. I am looking forward to enrolling in additional classes at CreativeLive and hopefully if Jeff and Ross teach more courses, I will sign up. Thank you so very much Jeff, Ross and the CreativeLive team!
Student Work