From App to Archive: Social Media Scrapbooking
Megan Hoeppner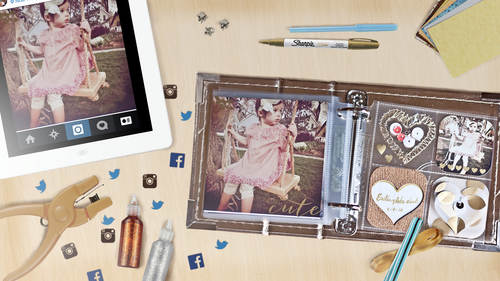 From App to Archive: Social Media Scrapbooking
Megan Hoeppner
Class Description
We share major life events, celebratory moments, and milestones on social media every day. Memories are captured with the closest camera at hand — and photographs are now uploaded more often than they are printed and framed. Our Facebook®, Twitter®, and Instagram® feeds document our days — but who preserves these digital memories?
Learn how to turn these online photo albums, conversations, and status updates into beautiful physical scrapbooks and videos. You'll learn the basics of scrapbook storytelling and how to integrate your social media activity into family albums and even professional portfolios. Through hands-on instruction, Megan Hoeppner will show you how to create attractive layouts and designs that reflect the important memory, relationship, or major life event you want to commemorate.
This course is for anyone who wants to turn their rich online lives into real-life works of art for future generations to enjoy.
Class Materials
Scrapbook Page Blueprints
Instagram® Calendars Instructions
Pocket Insert Instructions
Basic Scrapbooking Supplies
Ratings and Reviews
This was my first experience with CeativeLive , and I was very impressed. I have taken classes with Megan before over the computer which I loved. This live class was so much better because it felt genuine. I loved the flow and ease of the topics. I have already signed up for another class, and hope Megan will be back to teach us more.
I thoroughly enjoyed watching Megan Hoeppner the past 2 days. She speaks clear, and doesn't tend to use the words "um" and "uh" all the time. I wish I could have been there for hands on, that looked like so much fun! I hope I can take more classes if she offers them in the future. Thanks Megan and CreativeLive! JG (Janice G)
What an amazing class! Megan is brilliant! I've been scrapping & digiscrapping for many, many years and I NEVER though to use my social media photos and quotes to help document my memories. Thank you!!!
Student Work