Adobe Illustrator Fundamentals
Daniel Walter Scott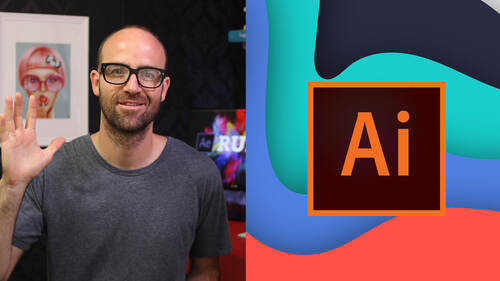 Adobe Illustrator Fundamentals
Daniel Walter Scott
Class Description
AFTER THIS CLASS YOU'LL BE ABLE TO:
Set up and navigate the Adobe Illustrator interface like a pro.
Drawing with the pen, pencil & curvature tool.
How to mask images & graphics.
Create stencil style images from real drawings.
Work with color like a seasoned designer.
Draw in Illustrator with shapes and lines and create custom logos easily.
Master the use of Type and Fonts to create a postcard and other designs.
Use CC libraries, free templates and the Adobe Capture App confidently.
Work with and create advanced effects and patterns.
Save and export your work for a range of different outputs.
ABOUT DANIEL'S CLASS:
Adobe Illustrator is celebrated as one of the top design tools by industry experts globally. Its versatile features have been carefully created with professionals in mind, allowing the program to be used for any design project imaginable. Now, you can go from first-time user to Illustrator pro as you move through the chapters of this fundamentals class taught by a world-renowned expert.
This class covers all of the Illustrator need-to-know basics including drawing with shapes and lines, using tools like curvature, brushes, pen and pencil, type and fonts confidently, the ins and outs of RGB and CMYK, advanced masking and how to save and export your designs.
The class is filled with practical, real-world projects that you can start using straight away to build your portfolio and advance your career as a designer.
WHAT YOU WILL LEARN:
How to set up your workspace for an efficient workflow
How to draw using the shape builder, pen, pencil and curvature tools
How to use brushes and draw lines like an expert
How to curve type around a badge and break apart or destroy text and fonts
The basics of RGB and CMYK, how to use the dropper to pick up colors, find colors using Color Theme and how to create interesting gradients
How to mask an image inside text and cut holes in shapes using compound shapes
How to distort, bend, warp and vectorize an image
WHO THIS CLASS IS FOR:
People who have no to little experience with Adobe Illustrator
People who need a refresher class on Illustrator's features
Illustrators who want to fortify their existing skill set
Professional artists who want to move their art to a digital platform
Designers who want to add Adobe Illustrator designs to their offering
Logo designers who want to learn how to create killer logos in Illustrator
Anyone wanting to learn how to use Adobe Illustrator CC
All levels of experience
SOFTWARE USED:
Adobe Illustrator CC 2018
ABOUT YOUR INSTRUCTOR:
An influential media designer, Advanced Adobe Certified Instructor and dedicated teacher to thousands of students for over 15 years. Daniel is a speaker and multi-award winner at the prestigious annual Adobe Max conference.
Ratings and Reviews
BIG COMPLAINT... I'm just starting this course. I have Illustrator CS6. My BIG/HUGE Complaint and I only watched 2 1/2 brief lessons... Is that the FiVRR LOGO (top right) is RIGHT ON TOP of the Illustrator Panels and YOU CANNOT SEE what is under it. IF one is just learning, they need to see what everything looks like in Illustrator (or any class). I STRONGLY suggest that FIVRR and CreativeLive find a better place to put the FIVRR Logo instead of putting it where it BLOCKS ESSENTIAL course visuals! Not sure I can get through this, but I'm not giving up quite yet. I like the course previews and IF I can learn how to get around Illustrator I will be thrilled... I am a Photoshop person, and Illustrator makes me feel like an incompetent! ;) Perhaps IF I can learn Illustrator I can use it for some of the visuals I create! Thanks in advance. PLEASE PLEASE PLEASE find a better place and size for the Fivrr Logo. ~Roz Fruchtman aka @RozSpirations
This class is AMAZING!! Daniel is a very thorough, entertaining and easy to follow instructor. You DO NOT need to take any college course on Illustrator because this is the whole thing right here!! You will be a pro once you complete it. I only wish that Creative Live could send me a diploma for it once I complete it! BUY THIS CLASS! IT'S WORTH EVERY PENNY!!
Such a great course! Daniel made learning easy and fun. Can't wait to go on to the Illustrator Mastery course next!
Student Work