Day 20: People-Watching Mad Lib
Kate Bingaman-Burt, Erik Marinovich, Ryan Putnam, Lara McCormick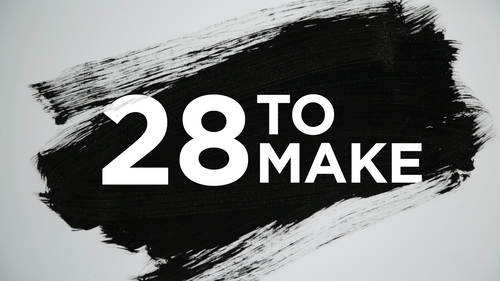 Day 20: People-Watching Mad Lib
Kate Bingaman-Burt, Erik Marinovich, Ryan Putnam, Lara McCormick
Lesson Info
20. Day 20: People-Watching Mad Lib
Lesson Info
Day 20: People-Watching Mad Lib
(vibrant music) Hello, I'm Brooks Chambers and this is 28 to Make. Today, you're gonna be making a people watching mad lib. This is really fun exercise for getting out of your normal context, where you've been making all this stuff all week. Go to a coffee shop you really like. Go to a park. Go somewhere maybe you've never been that you wanted to go, or go somewhere where you think maybe you shouldn't be, like go to a lobby of a fancy office building and just like act like you're supposed to be there. I came up to the roof deck of our office. It's just, I like coming up here to just like clear my head and like just breathe some fresh air. Also, it's like really beautiful here and I love watching the trucks move around and it helps me reformat. I came up here, and what you're gonna do is you're gonna pick four words, and not just any four words. You're gonna pick one adjective, one noun, one adverb, just anything explaining how the verb is working and your last word is gonna be the ve...
rb. And you're gonna pick each of these based on a different object that you see or person, or animal, it can be anything. So for me, I looked out and the first thing I saw was this guy just kinda like bouncing down the street, being real cool, totally chill, and everyone he talked to was like laughing. And he seemed to know everybody, and I just thought that guy was hilarious, and it seemed like everyone else thought so to. So that was my first word. My second word was cigarette because I saw this guy walking and he was smoking, like no big deal, and I was trying to find something really interesting about him or whatever, but he just kept fidgeting with his cigarette and looking at it and changing the way he was holding it. And that's just what stuck with me. So then for my third word, for my adverb, I saw this truck, it was this kinda rusted out old truck that was really loaded down with all kinds of stuff going up this big hill right around the corner, and it was like barely able to make it to the top. And that's just what stood out to me. I was like, I really don't know if it's gonna make it. So my third word, my adverb, is barely. Then my last word was based on this guy that I saw walking that was kind of eerily doing the exact same thing I was doing. He seemed to just be taking in all the details of what everyone was doing, how everyone was acting, and so I put watched 'cause he was watching people just like I was. When you're done and you put the word the in front of your words, you end up with a sentence that may or may not make any sense. Totally okay, that's kinda the point. This only makes sense to you because this is your perspective and your moment watching things that maybe only you would see. So when you put it together though it's kind of this funny sentence. So mine is the hilarious cigarette barely watched. And I like to format mine like a quote. And I like to put the place and the date and the time where I was, and it's kinda like Potrero Hill was saying this today at this time. And then when you're done, like don't feel pressure to like do anything really crazy with it. Like if you have some extra creative energy, maybe hand letter it in a fun way or draw a picture kind of illustrating the sentence. I am probably gonna tear mine out of my notebook and leave it somewhere for someone to find just 'cause it would be this weird riddle to throw kind of a curve ball in their day, which I think would be fun. So I really am genuinely curious to see what you come up with and what your little moments say to you, so please take a picture and share it with the #28toMake. (vibrant music)
Class Materials
4x6 Postcard Hard Copy template
4x6 Postcard digital template
Ratings and Reviews
I was looking for a way to get back into the habit of creating. The class has some fun ideas for projects that are easy to work on, which is super helpful. Every day I was excited to see what my new project was! But...a few seemed to not be what I considered sketching or drawing and didn't seem to fit the description. Overall, very helpful though :)
I just loved the way this was presented and the immediate connection of the videos and their content which helped me discover and try things I would not have thought I could do. The affirmations from others doing the same thing and being able to gather ideas from the 'sharing' bit was also important for me. I have gained a lot creatively and it has fired parts of my imagination that lay hidden. I am just sorry it is formally over. I missed the last x3 sessions and the portfolio bit due to illness but will complete the other tasks and will continue explore developing those that really opened a creative slot for me. Above all thanks to the tutors - each of you - I loved the content you chose and the enthusiasm and creative energy you conveyed in just a few moments and the generous attitude of the skills share. That's it - Thank you, would recommend to anyone not to miss this opportunity.
Best course ever on Creative Live. It's the foundation for doing anything or everything creative. Even if you think your only creative interest is say photography ...and you're not a drawer, maker or artist of any kind ...think again. This course will open up your mind and you will discover that actually you are a creative and you can pick up a pencil and draw... and it doesn't take up much time... 10-20 minutes a day. In the beginning it's not about the end result, it's about the doing and how it sets something off in your brain. It will make a huge difference to everything else you put your hands and mind to in life.
Student Work