10 Ways to Love Improvisational Quilting
Malka Dubrawsky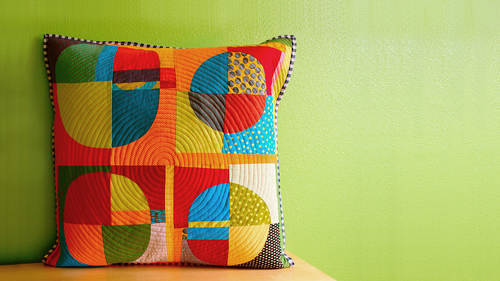 10 Ways to Love Improvisational Quilting
Malka Dubrawsky
Class Description
Custom quilts are the kind of heirloom craft everyone longs to create, but stitching together a unique pattern can be seriously overwhelming. In 10 Ways to Love Improvisational Quilting, Malka Dubrawsky will introduce you to new forms of quilting — with fresh color combinations, techniques, and patterns.
Malka will get you started by showing you how to cut and create a simple log cabin nine-patch block. You'll learn how to incorporate triangles, pinwheels, and curves into your designs to make them more versatile. You'll build the skills needed to take any quilt block (and even other patterns, like wallpaper or a painting) and deconstruct it so you can create something similar.
If you want to create bold and memorable quilts and learn new ways to express your creative style through quilting, this course is for you.
Class Materials
10 Ways to Love Improvisational Quilting - Look Book
Ratings and Reviews
Another great class. I love the approach that encourages spontaneity and decision-making throughout the process! I was not at all put off by Malka's speaking style -- I found her informative, articulate, thoughtful and funny. I would, however, have appreciated much less time watching her sew, although I realize she likely did that in this class to allow her in-person students to have time as well. A bit tedious, however, when it's not live or you're not sewing along. I loved the idea from another reviewer to have samples of Malka's quilts hanging in the studio throughout all the sessions so we could refer to a finished piece that demonstrated the skill she was teaching. I would recommend this course to anyone who loves quilting or wants to learn.
It was interesting to see how Malka goes about improv piecing and making her design choices. She makes visually interesting quilts with wonderful use of color. On the down side: 1.Technical issues need to be worked out. Chat did not work for me. I use Apple products. 2.Malka needs to find alternatives to "um" and "kind of". The course was too long. We do not need to watch Malka sewing so much...some is ok. More samples partially done would cut way down on sewing time. I would prefer to see examples of Malka's work hanging on the walls behind her, so we could see where she was going with her demos and give us some fabulous quilts to admire. I believe the sewers on the set would also have benefited from seeing samples hanging on the walls.
I have only watched one session, as I live in the UK and I did not watch it live. I have a busy schedule at present so will take awhile to work though them, initial thoughts were very good, I do like Malka's engery and free use of pallet. I look forward to watching them over the coming weeks and get back to you. I do like the concept of these classes and find them very useful. Thanks
Student Work